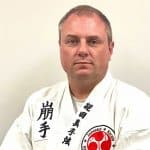 Matt Cowen started his martial arts life in 1984 when he signed up for Shorin-ryu karate classes in his hometown of Independence, Missouri. He took to it quickly and signed up for his first tournament in only 2 months having never learned kata or sparred.
In April of 1986 Sensei Cowen met several visiting Japanese karate men who changed his view of martial arts. Senior of the group was Kenzo Uchiage, a student of Chojun Miyagi. Uchiage Sensei was kind and showed Matt joint locks from a kata and how to puch with better form. Also present were Yoichi Koshiyama (Shoto-Kai) and Yoshimi Inoue (Shito-Ryu). Inoue went on to become a highly sought after competition instructor. Koshiyama developed a friendship with Matt and met him on his first trip to Japan in the Summer of 1986.
In June of 1987 Sensei Cowen was promoted to 1st dan in Matsubayashi-ryu by karate poineer Robert Yarnall. In 1990 he was promoted to 2nd dan by Shoshin Nagamine, Takayoshi Nagamine and Frank Grant. Later that year he went to Okinawa where he lead all the American 1st and 2nd degree black belts in a demonstration in honor of Shoshin Nagamine.
In 1989 Matt went looking for more realistic uses of karate. Believing it was an ancient form of protection, he hoped someone still knew what the kata and movements were used for. He came across the dojo of Seiyu Oyata, later called Taika. He immediately knew this was the martial art he wanted to commit to and began training diligently.
Sensei Cowen trained for many years with Taika attempting to learn as much as possible. Never in that time did he ask for a promotion believing instead his actions should be the sign of his ability. One of his favorite stories in when he was training in front of Taika and was asked if he was a 4th dan now. Matt responded he wasn't, but was only a 1st dan in his art. It was an issue Taika soon remedied.
In 2008 Taika asked Matt if he would film the public kata for him so that he may put out an up-to-date line of videos. He agreed and they went to Wisconsin to the home of Saleem Saed, a student of Taika, who was responsible for hiring the production company. While on the trip Taika presented Matt with pictures of his instructors, Wakinaguri and Uhugushiku, as a symbol of his commitment to the student/teacher relationship. At that time Sensei Cowen was the only person to receive these pictures.
In 2011 Taika promoted Matt to 7th dan in his family art of Oyata Shin Shu Ho. Unfortunately, Taika passed away on June 18th, 2012.
Matt has continued to train trying to exemplify Taika's special type of karate since his passing. He joined with Greg Lindquist, Hanshi, in 2013 to form the ZKKR. Since that time he has acted primarily as a technical advisor within the organization. In 2019 Sensei Lindquist promoted Matt to 8th dan in Kuzushi-Te Okinawan Karate. In 2020 Sensei Lindquist announced that Sensei Cowen was the heir apparent for his system.
Sensei Cowen continues to train and experiment with other martial artists to improve his karate skill. In 2018 he was featured in a section of the book, "Taika Seiyu Oyata's Self Defense Techniques." Some of the pictures in this book are from Matt's time filming with Taika. Matt prefers to teach small classes and seminars to better communicate principles taught to him by Taika Oyata.