Okishikan is the Honbu dojo for ZKKR and Oyakata Kobujitsu. This dojo and Hanshi Greg Lindquist are dedicated to keeping alive the Life Protection Art founded by Taika Oyata.
Hanshi Linduist was given the dojo name – Okishikan – by Taika Oyata.

Oki – Okinawa Shi – Scholar Kan – Hall
ZKKR focuses upon:
Oyakata Kobujitsu focuses upon:
Instructor/Owner/Founder – Greg Lindquist, Hanshi, 10th Dan
Hanshi Greg Lindquist is Taika Oyata's longest continuous student. With over 50 years of study in Taika's art Hanshi Lindquist was one of two people presented with a Nin Tei Sho scroll from Taika stating the he (Greg) was licensed to teach unchanged and give rank in Taika's art.
Hanshi teaches a dedicated group of people in his dojo at his house.
He is dedicated to continuing on the legacy of Taika Oyata by establishing and growing both Zensekai Karate Kobujitsu Renmei and the sub organization dedicated to weaposn — Oyakata Kobujitsu.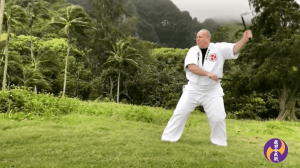 Kobujitsu (weapons)

Hanshi is well versed in 12 weapons and 32 kata included in Oyakata Kobujitsu.
Taika recognized that Hanshi was especially talented with the kama.