Renshi Agosto was given the dojo name by Hanshi Lindquist. Manny's former instructor and best friend Kyoshi Jed Oyasato (1964–2014), Nanadan, Oyata Shin Shu Ho Ryu had the dojo name Shisakan or Okinawan Lion Hall. In order to show his respect to Jed, Hanshi LIndquist gave Manny the name Tsugushikan.

Tsugu – Inheritor Shi – Okinawa Lion Kan – Hall
ZKKR focuses upon:
Oyakata Kobujitsu focuses upon:
Renshi Manuel Agosto (Manny to his friends) started his martial arts journey in 1980.
Dojo / Class Information
Classes are very personalized with a large amount of individual attention and customized instruction.
Classes schedule varies based upon Renshi's schedule and availability of his students.
Manny Agosto, Renshi; Founding Member ZKKR and Oyakata Kobujitsu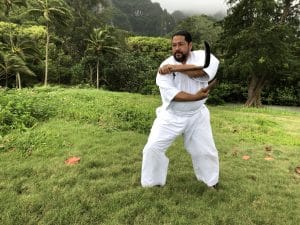 Kobujitsu (weapons)

Renshi is an avid student of Kobujitsu. With 40 years of experience he is well versed in many the ancient weapons.