Angel Lemus Sensei passed away on May 02, 2023. His passing is an incredibly devastating loss. I've talked with many people around the world and everyone expresses the same feelings: Angel was an incredible man, martial artist, and friend. Angel will be deeply missed and fondly remembered.
Ninchokan is the Karate and Kobujitsu dojo of Angel Lemus.
The Ninchokan Karate and Kobujitsu Dojo in Kaneohe Hawaii teaches the classical Okinawan Kobujitsu of the late Taika Seiyu Oyata (1930-2012). Lemus Sensei also teaches Shorinji-Ryu Karate of Chotoku Kyan to all his students and the rare family art of Kojo-Ryu Karate (also known as Koshiro-Ryu) to select advanced students.
Class emphasis:
Lemus Sensei teaches the old ways focusing on the "martial" and self defense practices of the old arts. He does not teach modern or sports competition for this is not a true martial art as it is a diluted and incomplete exercise leaning more to a "performance art". Students learn the empty hand fighting art of Karate and the Ancient weapons of Okinawan. Martial arts are for the young and old alike and it is a path for character development through a peaceful (yet vigilant) way of life.
Training consists of the following:
Kata: A specific pattern of movements that form the foundation for technique.
Tuite: Joint manipulation / locks.
Kyusho: Pressure point strikes that occur during technique.
Bunkai: Examination and practice of the fighting movements contained in Kata.
Dojo / Class Information
Classes are very personalized with a large amount of individual attention and customized instruction.
Class schedule: Tuesdays & Thursdays – 7-9pm
About Lemus Sensei:
Sensei Angel Lemus has been studying Martial Arts for 49 years. He started Judo at age 11 in South Florida competing extensively at local and state levels. At age 17 he began Karate training in the Gojuryu style achieving his first black belt in karate in 1980. In 1984 he switched styles to Shorinryu Seibukan under Sensei Tim Rodgers. Since then he has earned a Hachidan (8th degree black belt) in Shorinjiryu Karate with Kyoshi title. In 2013 he started to learn the family style of Kojoryu under Kazuo Hoshiyama Sensei and is the Vice President of the Kojoryu Koshinkan Association holding a Rokudan (6th degree black belt). In addition he holds black belt degrees in Judo, Matayoshi and Yamani-ryu kobudo. Sensei Lemus taught in Los Angeles California since 1987 for 21 years and continues to teach in Hawaii since his move to Oahu in 2008.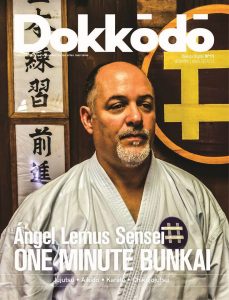 Sensei Lemus is the co-founder and Vice President of the Zentokukai Shorinji-ryu Association. In 2012 he launched the very popular One Minute Bunkai Youtube channel where he shares some of his experience with bunkai. He is also a member of the Hawaii Karate Kenkyukai (research and study group).
Lemus Sensei became the first member (non ZKKR practitioner) to join the Oyakata Kobujitsu group in 2017 and has since been rapidly learning, adapting and making Oyakata Kobujitsu his chosen and preferred style of Kobujitsu.